Blaise Compaoré sentenced to life imprisonment for the murder of Thomas Sankara
Burkina Faso's former president Blaise Compaore has been sentenced to life imprisonment for complicity in the 1987 assassination of his predecessor Thomas Sankara in a coup, a military court ruled on Wednesday.
Charismatic Marxist revolutionary Sankara was shot dead at the age of 37 in Ouagadougou, the capital of Burkina Faso, four years after seizing power in a previous putsch.
Compaoré was charged in absentia. In addition to the former president, they are two sentenced to life imprisonment. Hyacinthe Kafando suspected of having led the commando which assassinated Thomas Sankara and the commander of the Compaoré guard at the time of the events. As well as General Gilbert Diendéré, one of the army leaders of the 1987 putsch..
The three men were convicted of "undermining state security". Blaise Compaoré and Gilbert Diendéré were also found guilty of "complicity in murder" and Hyacinthe Kafando, suspected of having led the commando which killed Thomas Sankara, of "murder".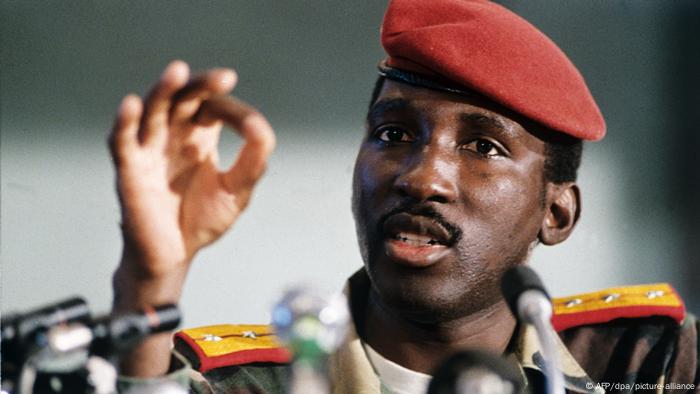 "The court finds Blaise Compaoré and Hyacinthe Kafando guilty of undermining state security, complicity in murder and concealment of a corpse," the court said in its judgment.
Both Compaoré and Kafando have previously denied any involvement in Sankara's death.
Eight other defendants were sentenced to between three and 20 years in prison. Three defendants were acquitted.
The verdict was greeted with applause in the courtroom. This historic trial opened in October 2021, 34 years after the death of Sankara, a pan-African icon, assassinated in a coup that brought Blaise Compaoré to power.
His lawyers had immediately denounced "a political trial" before "an exceptional court", believing that the procedure "is worth nothing". Mr. Compaoré was suspected of being the mastermind of the assassination of his former comrade in arms and friend who came to power by a putsch in 1983, which he has always denied.
They have fifteen days to appeal against these heavy sentences.
Compaoré ruled for 27 years before being ousted in another coup in 2014 and fleeing to Ivory Coast, where he is believed to still live.