Miley Cyrus plane makes emergency landing after lightning strike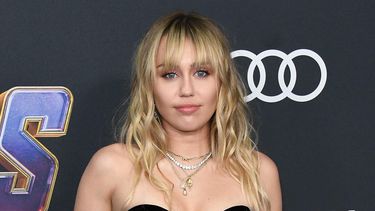 Miley Cyrus has shared a fierce message on Instagram. In a post she says that the plane she flew to Paraguay was struck by lightning, after which an emergency landing had to be made. Fortunately she is safe, but of course very shocked.
heavy.
Lightning
The 29-year-old singer was on her way to Paraguay to perform at the Asunciónico festival, but unfortunately she never arrived. The plane ended up in an unexpected and very violent storm. The plane was struck by lightning and had to make an emergency landing.
Miley made a statement with an Instagram post: "To my fans and everyone worried after hearing about my flight to Asunción. Our plane was caught in a major unexpected storm and struck by lighting. My crew, band, friends and family who were all traveling with me are safe after an emergency landing. We were unfortunately unable to fly into Paraguay. 💔 I LOVE YOU."
Damage to the aircraft
The second photo from Miley's Instagram post shows the damage the lightning has done to the device. Fortunately, no one was injured and Miley, her crew, band, family and friends were all rescued.
Sister on board
Miley's sister, Brandy Cyrus, was also aboard the plane. She shared more details about the incident on her Instagram Stories. She says: I'm going to try not to be dramatic but we almost died. We just landed in I don't even know where, 200 miles away from where we're supposed to land and because lightning struck the plane so bottoms up!"
Then she added: "Just wanted to let everyone know that we are safe and sound! We spent all day and night traveling, so taking the day to recharge and relax. Getting caught in the storm was very scary, but we are all so thankful that the pilots and flight crew handled everything perfectly and got us safely on the ground."
Miley's fans
Miley's fans are shocked by the Instagram post and are happy that Miley has let them know that she is doing well. Fans write: "Thank you for confirming that you are fine, we were quite worried about so much news. We love you "† "I'm so sorry about it… I'm in Paraguay rn, but I truly understand. Stay safe!" and "I'm glad everyone is safe, don't worry mc we understand, love you so much 🥺❤️"†
We're glad Miley and everyone else involved are okay.
Miley Cyrus introduces an even shorter mullet in a sexy outfit on Instagram
Seen a mistake? Mail us. We are grateful to you.
var sales_keywords = dataLayer[0].sales_keywords; if(sales_keywords == undefined){ sales_keywords=""; }else{ sales_keywords = sales_keywords.replace(/_/g, ''); sales_keywords = sales_keywords.replace(/&/g, '_'); sales_keywords = sales_keywords.replace(/&/g, '_'); }
if (typeof dataLayer[0].Site !== 'undefined') { var site_name = dataLayer[0].Site.toLowerCase(); }else{ var site_name=""; }
site_name = site_name.split(".");
//SETTING VARIABLES
var script = document.createElement("script"); script.src = "https://shared.mediahuis.be/cxense/cxense.nsmbl.min.js"; script.type = "didomi/javascript"; script.setAttribute('data-vendor','iab:412');
console.log('ads: '+deniedConsent.indexOf('create_ads_profile')); console.log('content: '+deniedConsent.indexOf('select_personalized_content'));
if(deniedConsent.indexOf('create_ads_profile') < 0 && deniedConsent.indexOf('select_personalized_content') < 0){ document.head.appendChild(script); console.log('load cxense!!!'); }else{ console.log('NOT load cxense!!'); } if (dataLayer[0].show_banners == 1) { // console.log('fillSlots'); setTimeout(function(){ fillSlots(); }, 1000); } if(deniedConsent.indexOf('social_media') < 0){ var y = document.getElementsByClassName("social-media-no-consent-box"); var i; for (i = 0; i < y.length; i++) { y[i].style.display = "none"; } var x_fb_post = document.getElementsByClassName("fb-post-no-consent"); while(x_fb_post.length > 0) { x_fb_post[0].className = "fb-post"; }
var x_fb_video = document.getElementsByClassName("fb-video-no-consent"); var i; while(x_fb_video.length > 0) { x_fb_video[0].className = "fb-video"; }
var x_twitter = document.getElementsByClassName("twitter-tweet-no-consent"); while(x_twitter.length > 0) { x_twitter[0].className = "twitter-tweet"; }
var xi = document.getElementsByClassName("instagram-media-no-consent"); while(xi.length > 0) { xi[0].className = "instagram-media"; }
var script = document.createElement("script"); script.src = "https://platform.twitter.com/widgets.js"; document.head.appendChild(script);
var script = document.createElement("script"); script.src = "https://www.instagram.com/embed.js"; document.head.appendChild(script);
var script = document.createElement("script"); script.innerHTML = "window.instgrm.Embeds.process();"; document.head.appendChild(script);
var script = document.createElement("script"); script.src = "https://connect.facebook.net/nl_NL/sdk.js#xfbml=1&version=v8.0";
var facebookDiv = document.createElement('script'); facebookDiv.innerHTML =`window.fbAsyncInit = function() {FB.init({ xfbml : true, version : 'v5.0' });}; `; document.head.appendChild(facebookDiv);
var my_awesome_script = document.createElement('script'); my_awesome_script.setAttribute('src','https://connect.facebook.net/en_US/sdk.js'); my_awesome_script.async="true"; my_awesome_script.defer="true"; document.head.appendChild(my_awesome_script);
}
if (deniedConsent.indexOf('measure_content_performance') < 0){ var script = document.createElement("script"); script.src = "https://cdn.onthe.io/io.js/TNSY8WYglcTO"; document.head.appendChild(script); console.log('load IO Tech'); loadIo(); }else{ console.log('NOT load IO Tech'); } } } if (navigator.userAgent.toLowerCase().indexOf('cxensebot') != -1) { loadAllScripts(); }