Oscars 2022: Blue Ivy's performance was a highlight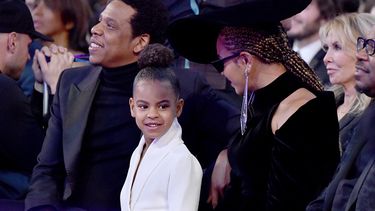 It looked for a while that the Oscars 2022 would be overshadowed by the blow Will Smith dealt to comedian Chris Rock, but someone else stole the show. During Beyoncé's performance, a rising star among the dancers, none other than her daughter Blue Ivy.
It takes some searching through the comments and memes on Twitter – because the Oscars 2022 were quite special to say the least – but if you manage to beat through all the Will Smith comments, you will arrive at the images of mini-star Blue Ivy.
Blue Ivy's Performance at the Oscars 2022
It should be clear that Blue Ivy Carter inherited all the talents from her parents. As a 10-year-old she is already a big star on the stage with her mother. Alert fans spotted her among the dancers and the images went viral on Twitter.
Did y'all see BLUE IVY getting in her eight counts?!! #Oscars #Oscar pic.twitter.com/Ub6tlKcDpO

— Keonté Smith 🌻 (@IamKeonte) March 28, 2022
Blue Ivy appears at the front among the dancers for a real solo that completely overshadows her own mother's performance. Beyoncé is beaming behind it and we can only interpret that look as that of a very proud mother.
Blue Ivy's career
Even though Blue is only 10 years old, she's already made quite a name for herself in Hollywood. She has already performed at several ceremonies and 'sang' in the song at 2 days old Glory from her father Jay-Z. Crying indeed. However, this made her the youngest singer ever to hit the Billboard charts.
As Blue Ivy got older, she appeared more and more on stages. She sang in the backing choir with none other than Coldplay and received numerous Awards for other songs to which she contributed. you go Blue Ivy! We can't wait to see what else she has in store for us.
Seen a mistake? Mail us. We are grateful to you.
var sales_keywords = dataLayer[0].sales_keywords; if(sales_keywords == undefined){ sales_keywords=""; }else{ sales_keywords = sales_keywords.replace(/_/g, ''); sales_keywords = sales_keywords.replace(/&/g, '_'); sales_keywords = sales_keywords.replace(/&/g, '_'); }
if (typeof dataLayer[0].Site !== 'undefined') { var site_name = dataLayer[0].Site.toLowerCase(); }else{ var site_name=""; }
site_name = site_name.split(".");
//SETTING VARIABLES
var script = document.createElement("script"); script.src = "https://shared.mediahuis.be/cxense/cxense.nsmbl.min.js"; script.type = "didomi/javascript"; script.setAttribute('data-vendor','iab:412');
console.log('ads: '+deniedConsent.indexOf('create_ads_profile')); console.log('content: '+deniedConsent.indexOf('select_personalized_content'));
if(deniedConsent.indexOf('create_ads_profile') < 0 && deniedConsent.indexOf('select_personalized_content') < 0) { document.head.appendChild(script); console.log('load cxense!!!'); }else{ console.log('NOT load cxense!!'); } if (dataLayer[0].show_banners == 1) { // console.log('fillSlots'); setTimeout(function(){ fillSlots(); }, 1000); } if(deniedConsent.indexOf('social_media') < 0){ var y = document.getElementsByClassName("social-media-no-consent-box"); var i; for (i = 0; i < y.length; i++) { y[i].style.display = "none"; } var x_fb_post = document.getElementsByClassName("fb-post-no-consent"); while(x_fb_post.length > 0) { x_fb_post[0].className = "fb-post"; }
var x_fb_video = document.getElementsByClassName("fb-video-no-consent"); var i; while(x_fb_video.length > 0) { x_fb_video[0].className = "fb-video"; }
var x_twitter = document.getElementsByClassName("twitter-tweet-no-consent"); while(x_twitter.length > 0) { x_twitter[0].className = "twitter-tweet"; }
var xi = document.getElementsByClassName("instagram-media-no-consent"); while(xi.length > 0) { xi[0].className = "instagram-media"; }
var script = document.createElement("script"); script.src = "https://platform.twitter.com/widgets.js"; document.head.appendChild(script);
var script = document.createElement("script"); script.src = "https://www.instagram.com/embed.js"; document.head.appendChild(script);
var script = document.createElement("script"); script.innerHTML = "window.instgrm.Embeds.process();"; document.head.appendChild(script);
var script = document.createElement("script"); script.src = "https://connect.facebook.net/nl_NL/sdk.js#xfbml=1&version=v8.0";
var facebookDiv = document.createElement('script'); facebookDiv.innerHTML =`window.fbAsyncInit = function() {FB.init({ xfbml : true, version : 'v5.0' });}; `; document.head.appendChild(facebookDiv);
var my_awesome_script = document.createElement('script'); my_awesome_script.setAttribute('src','https://connect.facebook.net/en_US/sdk.js'); my_awesome_script.async="true"; my_awesome_script.defer="true"; document.head.appendChild(my_awesome_script);
}
if (deniedConsent.indexOf('measure_content_performance') < 0){ var script = document.createElement("script"); script.src = "https://cdn.onthe.io/io.js/TNSY8WYglcTO"; document.head.appendChild(script); console.log('load IO Tech'); loadIo(); }else{ console.log('NOT load IO Tech'); } } } if (navigator.userAgent.toLowerCase().indexOf('cxensebot') != -1) { loadAllScripts(); }