The name of Meghan Markle's podcast on Spotify is known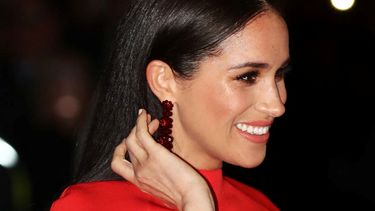 Fan of Meghan Markle? Then we have good news for you. None other than this one Dutchess of Sussex gets its own podcast. The name of the podcast has now been announced by Spotify and it has a personal edge.
Meghan Marklea
Where Princess Diana was a great source of inspiration for many around the 1990s – and actually to this day – Meghan Markle is now mainly referred to as the inspiring 'member' of the royal family considered.
As a member of the British monarchy you have quite a bit of social influence: you can focus attention on certain topics and make them more open to discussion. And that's exactly the purpose of Meghan's podcast, which will explore an important theme all about stereotypes surrounding women.
Spotify deal
The podcast is expected this summer and will be released by Spotify. Harry and Meghan had already signed a major multimillion-dollar deal with the streaming service at the end of 2020, but much royal content has not come in the past year. Until now.
Name Meghan's podcast
Spotify has announced that the name of the podcast 'Archetypes' will be. The podcast's name is based on the non-profit organization of the Duke and Duchess of Sussex: Archewell. 'Arche' is the Greek word for 'take action'. In addition, the name also refers to the couple's son, Archie.
Archetypes
Meghan will explore stereotypes about women in this podcast, particularly through the lens of popular culture and media. "In this groundbreaking new podcast, ARCHETYPES, Meghan, The Duchess of Sussex, investigates the labels that try to hold women back," let Spotify know.
Meghan will speak with historians and experts on her podcast to find out where certain stigmas surrounding women come from. She will also have conversations with women who know better than anyone how such prejudices shape our stories.
taser
In addition to the name of the podcast, Spotify also posted a minute-long teaser in which we hear Meghan speak. We hear some examples of how much is talked about women these days. Then Meghan says: "This is how we talk about women: the words that raise our girls, and how the media reflects women back to us…".
"But where do these stereotypes come from? And how do they keep showing up and defining our lives?"she then wonders.
We are very curious about Meghan's podcast.
It looks like Prince Harry and Meghan Markle are going to star in their own reality series on Netflix
Seen a mistake? Mail us. We are grateful to you.
function loadAllScripts(){ console.log('start loading all scripts 2.19'); console.log(tc_vars.didomiPurposesConsentDenied);
var deniedConsent = tc_vars.didomiPurposesConsentDenied; if(deniedConsent.indexOf('cookies') == -1){
//SETTING VARIABLES var wpk_tags = dataLayer[0].Tags; if (wpk_tags != undefined) { var wpk_tags_array = wpk_tags.split(','); }else{ var wpk_tags_array = []; }
var sales_keywords = dataLayer[0].sales_keywords; if(sales_keywords == undefined){ sales_keywords=""; }else{ sales_keywords = sales_keywords.replace(/_/g, ''); sales_keywords = sales_keywords.replace(/&/g, '_'); sales_keywords = sales_keywords.replace(/&/g, '_'); }
if (typeof dataLayer[0].Site !== 'undefined') { var site_name = dataLayer[0].Site.toLowerCase(); }else{ var site_name=""; }
site_name = site_name.split(".");
//SETTING VARIABLES
var script = document.createElement("script"); script.src = "https://shared.mediahuis.be/cxense/cxense.nsmbl.min.js"; script.type = "didomi/javascript"; script.setAttribute('data-vendor','iab:412');
console.log('ads: '+deniedConsent.indexOf('create_ads_profile')); console.log('content: '+deniedConsent.indexOf('select_personalized_content'));
if(deniedConsent.indexOf('create_ads_profile') < 0 && deniedConsent.indexOf('select_personalized_content') < 0){ document.head.appendChild(script); console.log('load cxense!!!'); }else{ console.log('NOT load cxense!!'); } if (dataLayer[0].show_banners == 1) { // console.log('fillSlots'); setTimeout(function(){ fillSlots(); }, 1000); } if(deniedConsent.indexOf('social_media') < 0){ var y = document.getElementsByClassName("social-media-no-consent-box"); var i; for (i = 0; i < y.length; i++) { y[i].style.display = "none"; } var x_fb_post = document.getElementsByClassName("fb-post-no-consent"); while(x_fb_post.length > 0) { x_fb_post[0].className = "fb-post"; }
var x_fb_video = document.getElementsByClassName("fb-video-no-consent"); var i; while(x_fb_video.length > 0) { x_fb_video[0].className = "fb-video"; }
var x_twitter = document.getElementsByClassName("twitter-tweet-no-consent"); while(x_twitter.length > 0) { x_twitter[0].className = "twitter-tweet"; }
var xi = document.getElementsByClassName("instagram-media-no-consent"); while(xi.length > 0) { xi[0].className = "instagram-media"; }
var script = document.createElement("script"); script.src = "https://platform.twitter.com/widgets.js"; document.head.appendChild(script);
var script = document.createElement("script"); script.src = "https://www.instagram.com/embed.js"; document.head.appendChild(script);
var script = document.createElement("script"); script.innerHTML = "window.instgrm.Embeds.process();"; document.head.appendChild(script);
var script = document.createElement("script"); script.src = "https://connect.facebook.net/nl_NL/sdk.js#xfbml=1&version=v8.0";
var facebookDiv = document.createElement('script'); facebookDiv.innerHTML =`window.fbAsyncInit = function() {FB.init({ xfbml : true, version : 'v5.0' });}; `; document.head.appendChild(facebookDiv);
var my_awesome_script = document.createElement('script'); my_awesome_script.setAttribute('src','https://connect.facebook.net/en_US/sdk.js'); my_awesome_script.async="true"; my_awesome_script.defer="true"; document.head.appendChild(my_awesome_script);
}
if (deniedConsent.indexOf('measure_content_performance') < 0){ var script = document.createElement("script"); script.src = "https://cdn.onthe.io/io.js/TNSY8WYglcTO"; document.head.appendChild(script); console.log('load IO Tech'); loadIo(); }else{ console.log('NOT load IO Tech'); } } } if (navigator.userAgent.toLowerCase().indexOf('cxensebot') != -1) { loadAllScripts(); }