These four models are featured in Kim's SKIMS' new campaign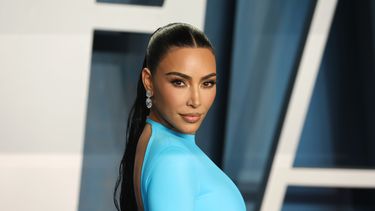 It seems like everything the Kardashians touch turns to gold. Kim Kardashian not only has a successful make-up brand, KKW beauty, but her shapewear brand SKIMS is also going like a train. SKIMS' new campaign has just been released and stars four iconic supermodels.
ICONIC.
SKIMS
SKIMS is the shapewear brand that Kim Kardashian founded in 2019. The company sells shapewear that appeals to many women to say the least, because the items sell like hot cakes. The very first collection of the brand sold out within a few minutes. Impressive.
New campaign
Kim has recruited four iconic models for the new SKIMS campaign. HOW?! This is none other than Heidi Klum, Tyra Banks, Alessandra Ambrosio and Candice Swanepoel. In the campaign, all four of them are dressed in a nude set from the Fits Everybody Underwearline of the underwear brand.
The supermodels have all worked for lingerie brand Victoria's Secret and are now posing together for the first time for the 'Icon'-campaign. "Every one of them has played such a unique and lasting role in shaping the industry. Equipping these amazing women in our Fits Everybody's Underwear collection is truly a full circle moment for me", Kim says about the four models.
About the line itself, Kim says it's the best-selling collection since launch, because she says it's a real "game changer" is. The underwear fits everyone great, because it can stretch up to twice its size and it molds to your body. The line is also available in many different colors so that there is something for everyone.
photobombing
Kim herself couldn't resist joining the group to pose for the camera: "OK so I wasn't supposed to be in this @SKIMS campaign but I stopped by and jumped in because it was too iconic." We agree with Kim, in any case she fits in perfectly.
We think the photos turned out beautiful. Iconic even.
Seen a mistake? Mail us. We are grateful to you.
window.didomiEventListeners = window.didomiEventListeners || []; window.didomiEventListeners.push({ event: 'notice.clickagree', listener: function () { console.log('clicked agree'); consentLevel =3; loadAllScripts(); return false; } }); window.didomiEventListeners.push({ event: 'preferences.clickagreetoall', listener: function () { console.log('clicked agree'); consentLevel =3; loadAllScripts(); return false; } }); window.didomiEventListeners.push({ event: 'preferences.clicksavechoices', listener: function () { console.log('clicked agree'); consentLevel = 3; loadAllScripts(); return false; } });
function loadAllScripts(){ console.log('start loading all scripts 2.19'); console.log(tc_vars.didomiPurposesConsentDenied);
var deniedConsent = tc_vars.didomiPurposesConsentDenied; if(deniedConsent.indexOf('cookies') == -1){
//SETTING VARIABLES var wpk_tags = dataLayer[0].Tags; if (wpk_tags != undefined) { var wpk_tags_array = wpk_tags.split(','); }else{ var wpk_tags_array = []; }
var sales_keywords = dataLayer[0].sales_keywords; if(sales_keywords == undefined){ sales_keywords=""; }else{ sales_keywords = sales_keywords.replace(/_/g, ''); sales_keywords = sales_keywords.replace(/&/g, '_'); sales_keywords = sales_keywords.replace(/&/g, '_'); }
if (typeof dataLayer[0].Site !== 'undefined') { var site_name = dataLayer[0].Site.toLowerCase(); }else{ var site_name=""; }
site_name = site_name.split(".");
//SETTING VARIABLES
var script = document.createElement("script"); script.src = "https://shared.mediahuis.be/cxense/cxense.nsmbl.min.js"; script.type = "didomi/javascript"; script.setAttribute('data-vendor','iab:412');
console.log('ads: '+deniedConsent.indexOf('create_ads_profile')); console.log('content: '+deniedConsent.indexOf('select_personalized_content'));
if(deniedConsent.indexOf('create_ads_profile') < 0 && deniedConsent.indexOf('select_personalized_content') < 0){ document.head.appendChild(script); console.log('load cxense!!!'); }else{ console.log('NOT load cxense!!'); } if (dataLayer[0].show_banners == 1) { // console.log('fillSlots'); setTimeout(function(){ fillSlots(); }, 1000); } if(deniedConsent.indexOf('social_media') < 0){ var y = document.getElementsByClassName("social-media-no-consent-box"); var i; for (i = 0; i < y.length; i++) { y[i].style.display = "none"; } var x_fb_post = document.getElementsByClassName("fb-post-no-consent"); while(x_fb_post.length > 0) { x_fb_post[0].className = "fb-post"; }
var x_fb_video = document.getElementsByClassName("fb-video-no-consent"); var i; while(x_fb_video.length > 0) { x_fb_video[0].className = "fb-video"; }
var x_twitter = document.getElementsByClassName("twitter-tweet-no-consent"); while(x_twitter.length > 0) { x_twitter[0].className = "twitter-tweet"; }
var xi = document.getElementsByClassName("instagram-media-no-consent"); while(xi.length > 0) { xi[0].className = "instagram-media"; }
var script = document.createElement("script"); script.src = "https://platform.twitter.com/widgets.js"; document.head.appendChild(script);
var script = document.createElement("script"); script.src = "https://www.instagram.com/embed.js"; document.head.appendChild(script);
var script = document.createElement("script"); script.innerHTML = "window.instgrm.Embeds.process();"; document.head.appendChild(script);
var script = document.createElement("script"); script.src = "https://connect.facebook.net/nl_NL/sdk.js#xfbml=1&version=v8.0";
var facebookDiv = document.createElement('script'); facebookDiv.innerHTML =`window.fbAsyncInit = function() {FB.init({ xfbml : true, version : 'v5.0' });}; `; document.head.appendChild(facebookDiv);
var my_awesome_script = document.createElement('script'); my_awesome_script.setAttribute('src','https://connect.facebook.net/en_US/sdk.js'); my_awesome_script.async="true"; my_awesome_script.defer="true"; document.head.appendChild(my_awesome_script);
}
if (deniedConsent.indexOf('measure_content_performance') < 0){ var script = document.createElement("script"); script.src = "https://cdn.onthe.io/io.js/TNSY8WYglcTO"; document.head.appendChild(script); console.log('load IO Tech'); loadIo(); }else{ console.log('NOT load IO Tech'); } } } if (navigator.userAgent.toLowerCase().indexOf('cxensebot') != -1) { loadAllScripts(); }